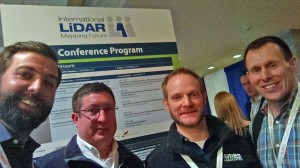 A contingent from Ayres Associates attended the International LiDAR Mapping Forum (ILMF) in Denver February 13-15.
Jim Kelly, Jason Krueger, Adam Derringer, and Matt Vinopal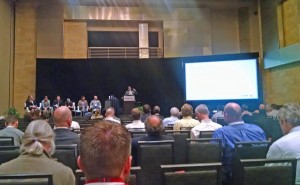 This technical conference is one of the most important national events that our Aerial Mapping group attends each year.  With a bustling exhibit hall and three days of technical presentations, the conference is packed with a full and diverse agenda focusing on aerial and ground-based Lidar applications and the latest news on sensor and software development. The event also provides a excellent venue for networking with other geospatial professionals, equipment and software vendors, and clients.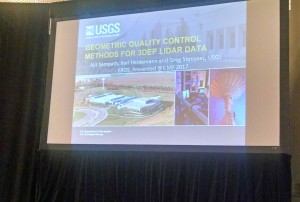 The Ayres crew invested much of their time in Denver participating in session topics related to the USGS 3DEP program.  Sessions within the USGS track included quality control methods, metadata, and future USGS initiatives to improve public access to Lidar data.  Much of what was learned during these tracks will have tremendous value as we wrap up the on-going 3DEP projects in Wisconsin and prepare for the next round in 2017.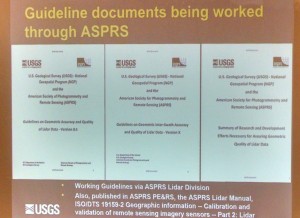 The Ayres attendees also applauds the announcement that next year's conference will be a joint effort between ASPRS and ILMF.  We believe that this will bring a broader audience and more holistic view of the geospatial landscape.  We are already eager for next year's event and the opportunity to be a part of this important and exciting collaboration between these organizations.